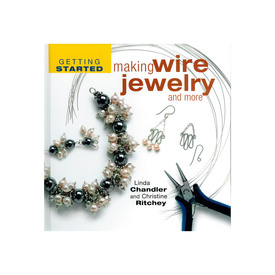 Get Started With Wire Jewelry Linda Chandler and Christine Ritchey
| | |
| --- | --- |
| Retail: | $19.95 |
| $75 : | $18.56 |
| $200 : | $17.00 |
| $450 : | $14.97 |
| $1275 : | $14.37 |
---
Attributes:
Title:

Get Started With Wire Jewelry

Author:

Linda Chandler and Christine Ritchey
---
Save more!
Add $75.00 (calculated from the Retail price) to your cart to proceed to the next discount level!
Simplified cart
The cart is empty
Attained discount:
Retail (?)
The discount is applied when you reach the corresponding subtotal.
---
---
---
Please note that all advertised prices are final and that all liquidation or rebate discounts have already been applied.